Welcome to Kansas City Tournaments
Scroll past the Featured Tournaments section to find the complete listing of all our events.
Click on the highlighted "name" of an event for details and to enter!
---
Out of town teams: none of our events are "stay to play". Teams are welcome to stay at any lodging!
Rainout Information: Get the RainoutLine app or call the telephone # (816-222-0076) to obtain field condition updates due to inclement weather. On the app, search for USA Softball of Kansas City & the name of the facility.
COACHES: all teams must be registered & insured for the current season and have at least two coaches who have passed the Background Check & have completed their SafeSport certification found on RegisterUSASoftball.com
Kansas City Featured Tournaments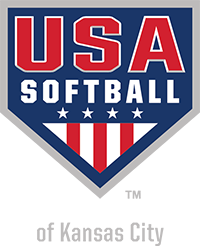 14U-A | 16U-A | 18U-A
Adair Park | Hidden Valley Park |

---
16U-Open | 18U-Open
Blue Valley Recreation Sports Complex
---
8U-C | 10U-C | 12U-C | 14U-C |
16U-C | 18U-C
---
Kansas City Tournaments
Girls Fastpitch Tournaments
Date
Name
Facility
Div
Reg
Entry Fee

Jun-02 - 04

Director - Darren Elliott

Lone Elm

|

Olathe Girls

8U-Open | 10U-A/B/C |
12U-A/B/C | 14U-B/C |
16-18U-B/C
69
$360

Jun-03 - 04

Director - Casey Borovac

Adair

|

Hidden Valley

|

Legacy

14U-A | 16U-A | 18U-A
55
$600

Jun-04 - 04

Director - Casey Borovac

Adair

|

Hidden Valley

16U-Gold | 18U-Gold
8
$450

Jun-09 - 11

Girls Fastpitch

Director - Darren Elliott

Lone Elm

|

Olathe Girls

8U-Open | 10U-A/B/C |
12U-A/B/C | 14U-A/B/C |
16-18U-B/C
44
$360

Jun-10 - 11

Girls Fastpitch

Director - Traci Mayberry

Blue Valley Rec

16U-Open | 18U-Open
32
$450

Jun-10 - 11

Girls Fastpitch

Director - Dawn Mayse

Adair

|

Legacy

8U-C | 10U-C | 12U-C | 14U-C |
16-18U-C
63
$360

Jun-17 - 18

Girls Fastpitch

Director - Mary Mahoney

Adair

|

Hidden Valley

10U-B | 12U-B | 14U-B | 16U-B |
18U-B
56
$495

Jun-17 - 18

Girls Fastpitch

Director - Dawn Mayse

Lone Elm

|

Olathe Girls

8U-C | 10U-C | 12U-C | 14U-C |
16U-C | 18U-C
55
$360

Jun-23 - 25

Girls Fastpitch

Director - Mary Mahoney

Olathe Girls

10U-B | 12U-B | 14U-B | 16-18U-B
35
$495

Jun-23 - 25

Girls Fastpitch

Director - Mary Mahoney

Lone Elm

12U-A | 14U-A | 16U-A | 18U-A
32
$495
Adult Slowpitch Tournaments
| Date | Name | Facility | Div | Reg | Entry Fee |
| --- | --- | --- | --- | --- | --- |
Adult Fastpitch Tournaments
| Date | Name | Facility | Div | Reg | Entry Fee |
| --- | --- | --- | --- | --- | --- |
Completed Events Tournaments
Date
Name
Facility
Div
Reg
Entry Fee

Feb-25 - 26

Director - Darren Elliott

Urban Youth

16-18U-Open
13
$240

Feb-25 - 25

Girls Fastpitch

Director - Mary Mahoney

Urban Youth

12U-Open
0
$0

Mar-18 - 19

Director - Stacey Moore

Adair

10U-Open | 14U-Open |
16-18U-Open
24
$375

Mar-19 - 19

Girls Fastpitch

Director - Mary Mahoney

Urban Youth

12U-Open
0
$0

Mar-24 - 26

Director - Darren Elliott

Lone Elm

|

Olathe Girls

8U-Open | 10U-Open |
12U-Open | 14U-Open |
16-18U-Open
6
$360

Apr-07 - 08

Director - Darren Elliott

Lone Elm

|

Olathe Girls

8U-Open | 10U-Open |
12U-Open | 14U-Open |
16-18U-Open
33
$270

Apr-08 - 08

Girls Fastpitch

Director - Mary Mahoney

Urban Youth

12U-Open
0
$40

Apr-15 - 16

Director - Stacey Moore

Hidden Valley

8U-Open | 10U-Open |
12U-C/Open | 14U-C/Open |
16-18U-Open
25
$375

Apr-22 - 23

Director - Dawn Mayse

Hidden Valley

|

Legacy

10U-C | 12U-C | 14U-C | 16-18U-C
82
$360

Apr-28 - 30

Director - Casey Borovac

Adair

|

Blue Valley Rec

|

Hidden Valley

|

10U-A | 12U-A | 14U-A | 16U-A |
16U-Gold | 18U-A | 18U-Gold
70
$600