Welcome to Kansas City Tournaments
Scroll past the Featured Tournaments to find all our events.
Click on the highlighted "name" of an event for complete details & to enter the event!

---
Out of Town teams: none of our events are "stay to play". Teams are welcome to stay at any hotel!
Rainout Information: Get the app or call the Rainout # 816-222-0046 to get updates during bad weather. On the app, search for USA Softball of Kansas City & the name of the facility.
COACHES: Teams must be registered & insured for the current season & have at least 2 coaches who have passed the Background Check & have completed their SafeSport certification found on RegisterUSASoftball.com - NO EXCEPTIONS!
20% off Coupon - Dick's Sporting Goods Valid March 3-6, 2023
Kansas City Featured Tournaments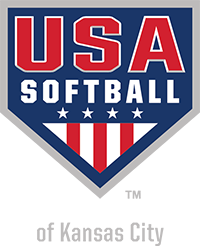 10U-Open | 12U-A/B |
14U-A/B | 16U-A | 16U-Gold |
16-18U-B | 18U-A | 18U-Gold
Adair Park | Blue Valley Recreation |
Hidden Valley |
Lone Elm Park |

---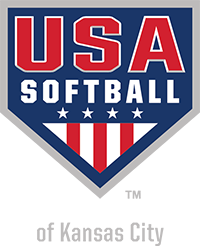 10U-Open | 12U-A/B/C |
14U-A/B/C | 16-18U-A/B/C
---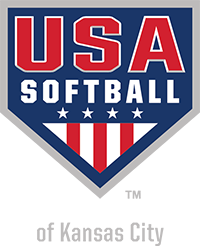 10U-B | 12U-B | 14U-B | 16U-B |
18U-B
Adair Park | Hidden Valley
---
Upcoming Kansas City Tournaments
Girls Fastpitch Tournaments
Date
Name
Facility
Div
Reg
Entry Fee

Feb-25 - 26

Girls Fastpitch

Director - Darren Elliott

Urban Youth

16-18U-Open
9
$240

Feb-25 - 25

Girls Fastpitch

Director - Mary Mahoney

Urban Youth

12U-Open
0
$0

Mar-18 - 19

Girls Fastpitch

Director - Stacey Moore

Adair

8U-Open | 10U-Open |
12U-C/Open | 14U-C/Open |
16-18U-Open
13
$375

Mar-25 - 26

Girls Fastpitch

Director - Darren Elliott

Lone Elm

|

OGSA

8U-Open | 10U-Open |
12U-Open | 14U-Open |
16-18U-Open
2
$360

Mar-25 - 09

Girls Fastpitch

Director - Mary Mahoney

Urban Youth

12U-Open
0
$0

Apr-01 - 02

Girls Fastpitch

Director - Darren Elliott

Lone Elm

|

OGSA

8U-Open | 10U-Open |
12U-Open | 14U-Open |
16-18U-Open
1
$360

Apr-07 - 08

Girls Fastpitch

Director - Darren Elliott

Lone Elm

|

OGSA

8U-Open | 10U-Open |
12U-Open | 14U-Open |
16-18U-Open
2
$270

Apr-08 - 08

Girls Fastpitch

Director - Mary Mahoney

Urban Youth

12U-Open
0
$40

Apr-15 - 16

Girls Fastpitch

Director - Stacey Moore

Hidden Valley

8U-Open | 10U-Open |
12U-C/Open | 14U-C/Open |
16-18U-Open
6
$375

Apr-22 - 23

Girls Fastpitch

Director - Stacey Moore

Lone Elm

|

OGSA

8U-Open | 10U-Open |
12U-C/Open | 14U-C/Open |
16-18U-A/B
6
$375
Adult Slowpitch Tournaments
| Date | Name | Facility | Div | Reg | Entry Fee |
| --- | --- | --- | --- | --- | --- |
Adult Fastpitch Tournaments
| Date | Name | Facility | Div | Reg | Entry Fee |
| --- | --- | --- | --- | --- | --- |